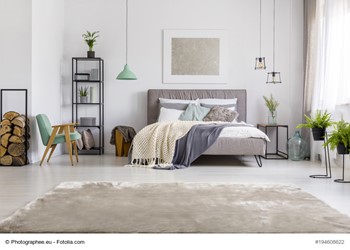 Want to wake up each day to a stunning luxe bedroom? Feel like you can't achieve this without draining your account? I've got good news, today I'm going to share my favorite upscale upgrades you can make even on a budget. You don't have to be royalty to live like one, you just need to get creative (and put in some elbow grease).
Add mirrors to closet doors to bring in more light and make your bedroom feel larger. Get mirrors cut to cover over the panels of a door for a smooth, luxe look. This works great whether you have a hinged swinging door style or bifold.   
Create a faux canopy bed with curtain rods installed on the ceiling. Look for bracket styles described as ceiling mounted or those that completely enclose the rod. There are also room divider options that allow for rods to connect and create a seamless look. The curtain fabric you use will completely set the tone and atmosphere of the room.
Restain a piece of furniture or your whole set to give an old piece new life. This is a great long weekend project as you will need to time to sand down the pieces as well as stain and add a finishing coat. A dark stain will feel upscale and luxurious.
Create a built-in library with a window seat by filling a wall with bookcases flanking each side of a bench or trunk. Add molding around where they will meet the ceiling and floor to fully integrate them and give that built-in look. Ensure that whatever finish you choose for your new bookcase it matches existing woodwork in the room.
Update your light fixtures to create a rich new atmosphere. Update sconces to a new sleek silhouette. Swap a flush mount ceiling light for a pendant or chandelier. Replace a ceiling fan with blades for a drum style fixture for a true update in style.
And of course, there is nothing a fresh coat of paint can't update. Create a luxurious atmosphere by choosing a neutral palette. Or be bold with a statement color that feels high end and ahead of the style curve. This one change can completely alter the look and feel of your bedroom without the need to change out any of your furniture to linens.
With that said, changing out linens is a great, easy way to upgrade your bedroom. Invest in a set with a high thread count and luxe-to-you style. Invest in a down blanket to stay toasty warm throughout the colder months. Curtains that sweep from ceiling to floor feel extravagant and create the illusion of a taller room. Load up on decorative pillows for a well-styled room that feels style-shoot-ready.