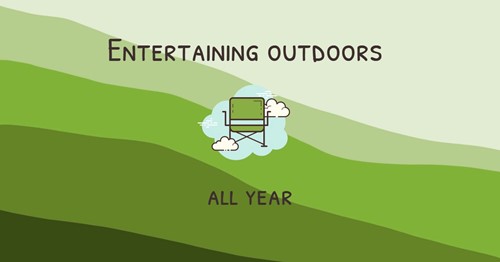 Entertaining outdoors doesn't have to be an activity reserved for the summer months. With suitable design choices and feature additions, you can make your outdoor living space comfortable and fun in any season.
Here are a few outdoor entertaining ideas to help you keep the party going all year round:
Warm it up with fire or heat lamps
Fire pits and outdoor fireplaces are more than just stylish backyard features. Having a fire feature can help keep you and your guests warm even on chilly evenings in winter. Portable outdoor fireplaces are an excellent option for small outdoor spaces and don't require any construction.
Heat lamps are another way to heat your outdoor party. You can use free-standing, tower-style heat lamps or opt for smaller, tabletop models. While powerful heat lamps can be expensive, they are available for rent from event supply companies and hardware stores.
Create shelter from the elements
Is your outdoor living space open to the elements? Consider adding something overhead to shield your outdoor party from rain, snow and harsh sun rays. Pergolas and gazebos make wonderful additions to any outdoor space, and can be styled in a variety of ways depending on the season.
Pop-up shelters are a good alternative if you'd rather not build a permanent structure. You can decorate them with string lights and draped fabric for instant ambiance and boho chic style. Keeping throw blankets and outdoor furniture with cozy cushions will keep the comfort level high even when the temperature drops.
"Plant" accordingly
Choosing the right plants for your outdoor space will keep it looking lush for your guests any time of year. Consider incorporating fall colors with maple, birch and oak trees. In winter, you can add color with berries like holly and viburnum.
Don't have a year-round green thumb? Try container planters instead. With container planting, you can easily swap out plants as they begin to fade and replace them with season-appropriate alternatives to wow your guests even in the dead of winter.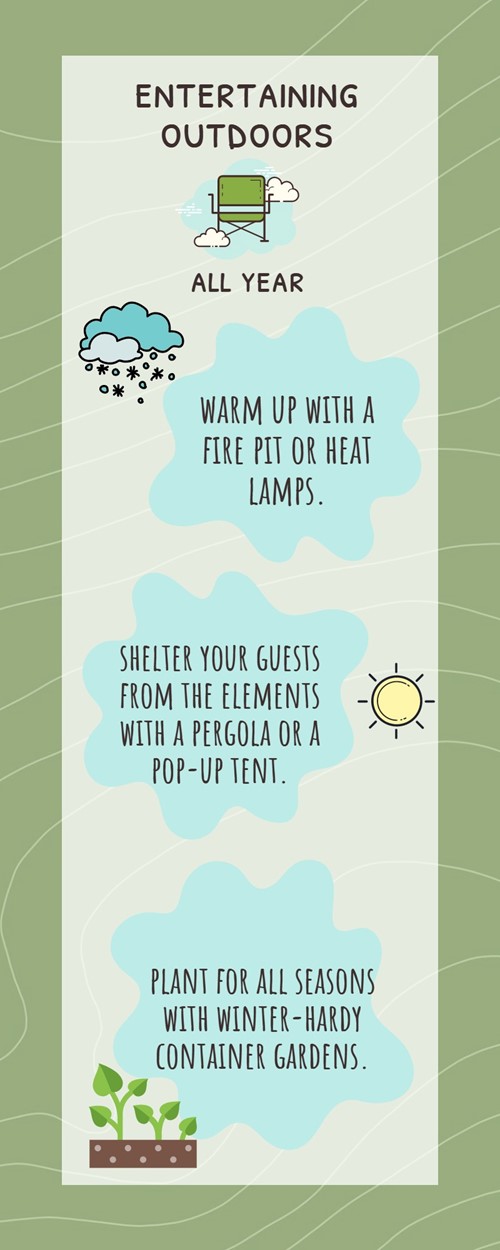 Whether you're hosting an outdoor dinner party, a casual picnic or a cozy gathering around the fire pit, keep these outdoor entertaining ideas in mind. With the right planning, you can be an outstanding host any time of year.